Prospective Students are Very Welcome
Leibniz Universität Hannover also offers pupils at school an exciting range of courses, lectures and information on events. Further information is provided here so that the choice of the right subject is not too difficult, so that girls are not afraid of technical subjects, and also so that younger children can already see the main lecture theatre from inside.
Schulportal of Leibniz Universität Hannover
KNOWLEDGE IS FUN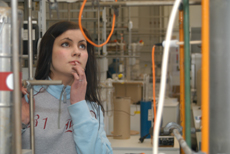 Pupils at school can gain their first impressions about studying at Leibniz Universität Hannover even before obtaining their university entry qualification.

With programmes like the "Discovery Days", Juniorstudium, the Gauß AG and many others, the University makes you want to know more.
Competitions
Selected Opportunities for Pupils
Discovery Days
Selected Opportunities for Prospetive Students
Addresses & Contacts