LEIBNIZ UNIVERSITÄT HANNOVER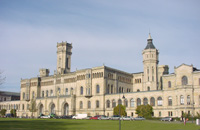 Welfengarten 1
D - 30167 Hannover
Tel. +49 511 762 - 0
Fax +49 511 762- 3456

How to find us:
Postal Address
Gottfried Wilhelm Leibniz Universität Hannover
Postfach 6009
D - 30060 Hannover
Germany
GUIDE
On the Right Path
The main building of the Leibniz Universität Hannover is in located in the Georgengarten, one of the most popular excursion and sightseeing destinations in Hannover, close to the centre and easy to reach by bus and tram. However, if you are looking for a specific institute, have an appointment in another area of campus or would like to direct visitors, maps and plans of the most important locations can be found on the following pages.

---
StandortFinder
Interactive map for seeking institutes and facilities of Leibniz Universität Hannover and for finding university buildings and rooms.
Travelling to Greater Hannover
Overview of transport connections and greater Hannover.

Lecture Hall Overview
Overview of the lecture halls at Leibniz Universität Hannover with number of seats, building number and address.