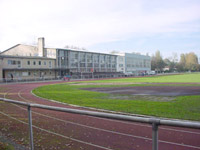 University Sports Centre
The University Sports Centre - in cooperation with the Student Union Sports Office (AStA) - offers all students and members of the various higher education institutions in Hannover a wide and extensive range of sporting opportunities. During the semester, the sports programme encompasses more than 500 events in over 90 sporting disciplines. The programme is slightly reduced during the non-lecture period.
Contact

Opening Hours

University Sports Centre
(Zentrum für Hochschulsport, ZfH)

Am Moritzwinkel 6
D - 30167 Hannover

Tel. +49 511 762 -2192
Fax +49 511 762 -4965


Service Office
Monday - Thursday,
10.00 am to 2.00 pm

---

Service Point (Hall 1)
Monday - Friday, 4.00 pm to 9.00 pm

---
Programme
University Sport is open to all students and employees, who are invited to do sports together, step outside their daily routine and make new contacts. Most courses in the sports programme, which appeals to popular taste, are free of charge. Registration is required only for certain sports courses. In addition to the regular sports programme, a variety of sports holidays, workshops, tournaments and special events are on offer.
Detailed information about the sports programme, all the holidays, news and much more is posted on the ZfH homepage.
In addition, notice boards with up-to-date posters and further information are located in the individual universities. Leaflets and flyers are available in Leibniz Universität's Service Centre, the individual student unions (ASTAs), the main mensa and in many other places. Further information is available from the employees in the ZfH service centre.

ZfH is constantly on the lookout for committed people who would like to pass on their enthusiasm for sports to others by working as paid trainers. The sports instructors in charge of this at ZfH are happy to supply further details.