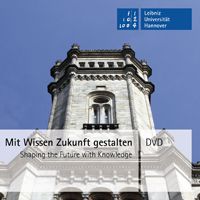 Leibniz Universität Hannover on-screen
The film "Shaping the Future with Knowledge", shows the great diversity of university life. Personal statements from students, academics and co-operation partners complement images filmed on campus from sometimes unusual perspectives.

The film intends to introduce prospective students, lecturers and academics, even those abroad, to the strengths, excellence and special features of the university.
Further Videos Connected with the Promotional Film
If you have any questions regarding the promotional film, please contact the Communications and Marketing team at Leibniz Universität Hannover.