The horticulture, landscape architecture and environmental development building complex
The ensemble of buildings at Herrenhäuser Straße 2 was built for the College of Horticulture and Landscape Architecture, founded in 1947 in Sarstedt near Hannover. Since 1952, it has been part of Technische Hochschule Hannover. The oldest building, completed in 1949, stretches along Herrenhäuser Straße.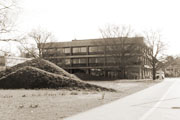 The main building to the east consists of three wings forming an inner courtyard with a green walkway. Several institutes in the field of natural sciences use this building, which also comprises two lecture halls.
Moreover, buildings for additional institutes were constructed between Herrenhäuser Straße and Haltenhoffstraße. The area also comprises gardens, fields and numerous greenhouses where experiments are carried out.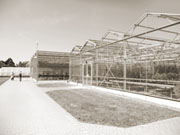 In 1985, the university took over a former church office at Herrenhäuser Straße 2a, which adjoins it to the east. The elaborately designed former boardroom is now used as a lecture hall. The low construction of the whole area blends in with the park environment, especially with the adjacent Berggarten, which is also of professional interest to individual institutes. LUH's childcare facility "Leibniz Kids" established in 2010 is also located at Herrenhäuser Straße 2.