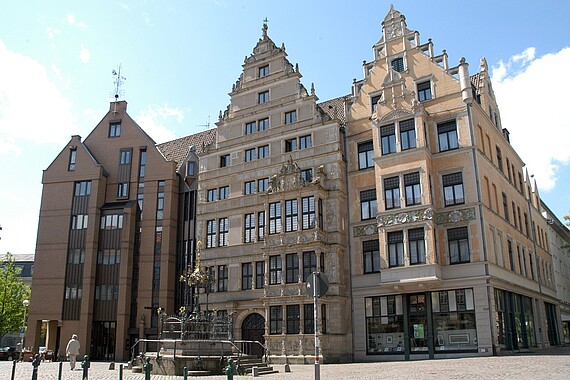 The historic Leibnizhaus was built in 1499 as the home of a patrician family and was located within walking distance of the present guest and conference house at Schmiedestraße 10. In the 19th century, the Leibnizhaus was named in honour of its most famous resident: the philosopher and universal scholar Gottfried Wilhelm Leibniz. Leibniz moved into the building in 1698 after the Elector of Hannover had rented the town house in order to accommodate the court library as well as his librarian, adviser and genealogist. Leibniz lived at Schmiedestraße 10 in Hannover until his death in 1716. Here he developed his main philosophical and mathematical concepts. He inspired historical and religious studies, shaped jurisprudence and the general organisation of science.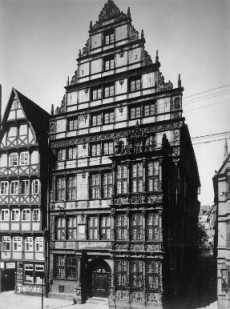 The newly built Leibnizhaus fulfils two purposes for the university and other higher education institutions in Hannover: On the one hand, it is the central guest house with additional flats in two neighbouring buildings. On the other hand, numerous academic events take place there. For this purpose, the Leibnizhaus accommodates a meeting room as well as seminar and conference rooms. In addition, there is a small Leibniz exhibition on the ground floor.
During Leibniz's time as court librarian, the Leibnizhaus housed the famous and extensive court library, which was a precursor of today's Gottfried Wilhelm Leibniz Library. In 1753, the actor August Wilhelm Iffland was born in the historic Leibnizhaus. In his memoirs and letters, the artist describes the house as the setting and stage of his childhood and adolescence.
During the Second World War (1943), the magnificent and historic building was destroyed in an air raid.
In 1983, the building was reopened at its present location in the centre of the historic old town of Hannover, as a guest and conference house for higher education institutions in Hannover. When the house was rebuilt, the early Baroque era façade from 1652 was reconstructed. Since 2010, the Leibnizhaus is part of the network "Internationale Begegnungszentren und Hochschulnahe Gästehäuser in Deutschland" (IBZ).
Today, the Leibnizhaus offers scientists in Hannover a shared dialogue venue and a temporary home for visiting scientists from all over the world.