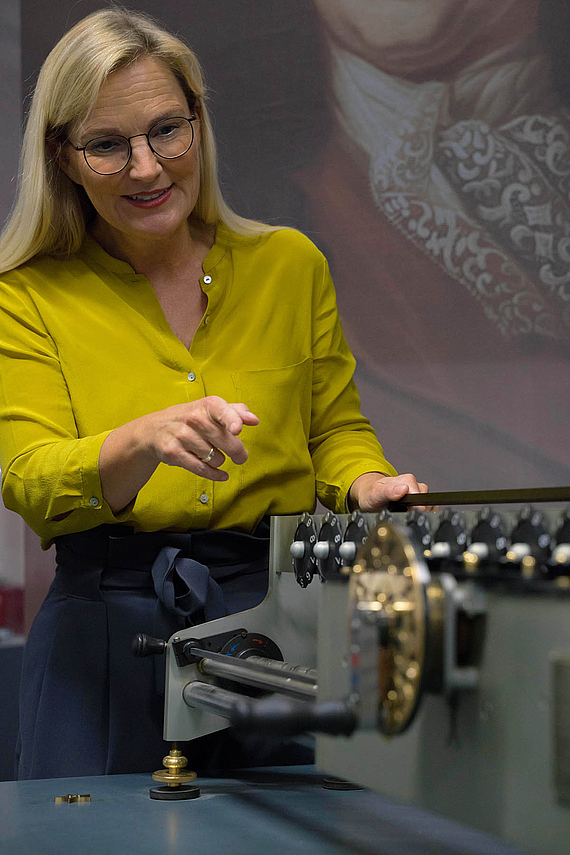 The exhibition is dedicated to Leibniz's ideas and innovations and creates a connection between the past and the present. The tour addresses students, members of teaching staff and guests of Leibniz University Hannover. Guided by the motto "experiencing and understanding Leibniz", visitors enter the world of the great science communicator and the namesake of Leibniz University Hannover, whose ideas and thoughts continue to inspire us to this day.
Dr. Ariane Walsdorf from Communications and Marketing is a Leibniz researcher and an expert in the field of his calculating machines. In her guided tours of the exhibition, she focuses on the work of Gottfried Wilhelm Leibniz, while explaining the context of individual models and providing perspectives on cultural history. Thus, visitors can experience Gottfried Wilhelm Leibniz and his era.
Discover exciting objects and learn about fascinating findings! For mathematical models can depict unseen things that take place in our minds.
Tours must be booked in advance. Please register via phone or email.
Dates
Guided tours in small groups may be booked individually (depending on current corona measures).
Interested parties are welcome to register for a guided tour. Moreover, special tours for children (from 5th grade), group tours as well as tours conducted in English are available upon request. Please use the contact details listed below to register for a tour.
Registration
In order to register, please contact the Communications and Marketing department of Leibniz University Hannover:
Tel. +49 511 762 - 5342
Email kommunikation@uni-hannover.de