Our Service
Our target groups are small and medium-sized enterprises (SMEs), universities and research institutions in the Federal State of Lower Saxony.
Contact to international research institutions and companies
As needed we provide you with contacts to potential international cooperation partners for R&D projects, technology transfer partners or business partners through the Enterprise Europe Network. As your local contact partner, we can draw on the entire network to provide you with suitable contacts for your needs. Additionally, we mediate offers such as international business trips and cooperation exchanges.
Implementation of innovation management audits
In a cost-free innovation management audit, companies can learn how innovative they really are. The consultants of the Enterprise Europe Network identify the technology and innovation potential of companies throughout that audit. The aim of the audit is to create a profile of verifiable strengths and weaknesses of companies in the innovation process and to help them establish cross-border business activities.
Exploitation of research results
Through the Enterprise Europe Network we support the exploitation of research results from universities, such as new technologies, products and services. We provide contacts to potential users from industry and science - including international and cross-industry contacts.
Advice on European funding opportunities
We advise you on contract or cooperation research. European funding programmes (e. g. SME instrument, Fast Track to Innovation, Eurostars) cover a broad thematic spectrum. We will help you identify the most appropriate funding programme, advise you on planning and support you with your application.
Contact for cooperation service, brokerage service and internationalisation
Address
Brühlstraße 27
30169 Hannover
Contact for EU-Funding and Cooperations
Address
Brühlstraße 27
30169 Hannover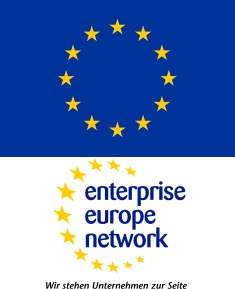 The Enterprise Europe Network is co-financed under the COSME programme by the European Union.
You can find our information on collection and protection of personal data related to our activities here.