Availability of the central student advisory service November 16th and 17th, 2023
On Thursday, November 16th and Friday, November 17th, the ZSB cannot be reached by telephone or for short consultations due to illness.
You can still write us an email via studienberatung@uni-hannover.de, which we will answer as soon as possible.
The service hotline can be reached unaffected by this at +49 (0)511 762 -2020 or studium@uni-hannover.de, as can the ZSB peer advisory service in the information center of the service center.
Advisory services tailored to your questions and concerns
How to contact the Student Advisory Services
Simply send us an email – our advisors will be happy to answer all your study-related issues:
For telephone inquiries you can reach us via the office of the Central Student Advisory Service Mon-Fri from 9:00 a.m. to 3:00 p.m. on our direct number +49 511 762 5580.
Peer information at the ServiceCenter
You can meet with our student staff at the Infothek in the ServiceCenter on weekdays from 10:00 to 14:00.
They can help you with applications, organizing your studys, questions regarding online services and with determining who you should contact.
Scheduled one-to-one advice
To make an appointment for a consultation (lasting around 45 mins), please contact our office or call the service hotline to be put through to the office.
Together with the advisor you can choose the best method of communication for you: phone, video call, or in person at our office.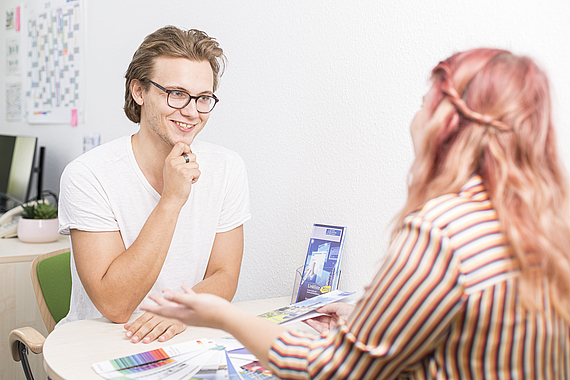 Group consultation / information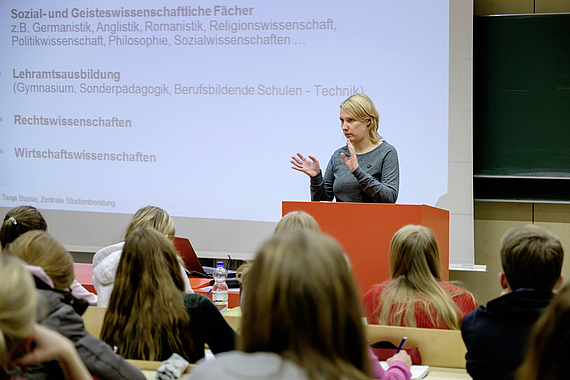 Are you a member of a larger group (perhaps a course or a school grade 11 or above) seeking advice? Contact our office to make an appointment for a group consultation/information session. Ideally, the session should be related to a particular shared issue, e.g. questions on teacher training.
The Main Building of Leibniz University Hannover is very large, and may seem daunting the first time you visit us. Here are a couple of maps to help you find us in the Welfenschloss:
How to find us:
Take the middle entrance (up the steps) to the castle
From the large atrium, go up the stairs on the right
Once you have reached the top of the stairs, turn right and go down to gallery on the right
You will find our office at the second door on the left (Room C 305)
How to find the ServiceCenter:
Take the middle entrance (up the steps) to the castle
On the opposite site of the large atrium, you will find the ServiceCenter
Access for students with disabilities:
Learn about studying at Leibniz University Hannover on social media: