From the Institute of Technology to the Technical University
After a general agreement had been passed in 1964 on the reorganisation of teaching in the sixth forms of Gymnasien, teacher training became the key issue of all further university expansion plans. Student numbers, which had remained almost constant at 4,000 to 5,000 until 1967, rocketed. In 1978/79 there were 18,000 students at the Institute of Technology. In 1968, the College of Education for Technical Schools was incorporated. In the same year, the Institute of Technology was renamed Technical University. At the same time a fifth faculty, Humanities and Political Science (later Social Sciences), was founded.
In March 1968 the Technical University gave itself a "provisional constitution", which remained valid, apart from certain temporary adjustments, until the Lower Saxony Higher Education Act came into force in 1978.
In the 1970s the curriculum of the Technical University was extended. In 1973 the sixth faculty, Law, was created. In 1974 came the seventh faculty, Economics and Business Administration.
At the end of the 1960s the German student movement also hit Hannover Institute of Technology, although Hannover did not play a major role compared to other German cities such as Berlin or Frankfurt am Main.
Such slogans as "legitimize the political mandate for student bodies" or "democratize university and state" were typical features of the higher education policies of the student council ASTA. This was essentially supported by the Sozialdemokratischer Hochschulbund (SHB), the Social Democratic university association, which was in favour of reform, and the Sozialistischer Deutscher Studentenbund (SDS), the Students Association of the German Social Democrat Party, and their sympathisers. Apart from the SHB, the Sozialistischer Deutscher Studentenbund (SDS) was the second relevant left-wing university group. Its members showed increasingly revolutionary tendencies from the middle of 1968 onwards.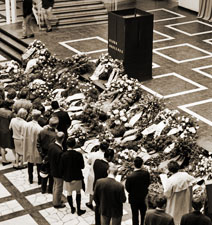 The death of Benno Ohnesorg, who came from Hannover, in West Berlin on 2nd June 1967 and his funeral in Hannover led to a wave of solidarity on the part of the students. 7,000 students took part in a funeral procession, waving black flags as they passed through the city centre; wreaths were laid in the Lichthof of Hannover Institute of Technology. After the silent protest march, the congress "Conditions and Organisation of Resistance" held in Hannover received nationwide attention. Virtually all of the people who played a crucial part in the student movement took part, including Knut Nevermann, Wolfgang Abendroth, Rudi Dutschke and Jürgen Habermas.
The best known and most successful campaign within Hannover's student movement was the red point action in June 1969 against fare increases for public transport in Hannover. Student and school student organisations together with trade unions and other groupings blocked buses and trams while providing alternative, essentially privately-organised public transport in the form of private vehicles marked by a red point on the windscreen.