Science & Engineering Research Program (SERP)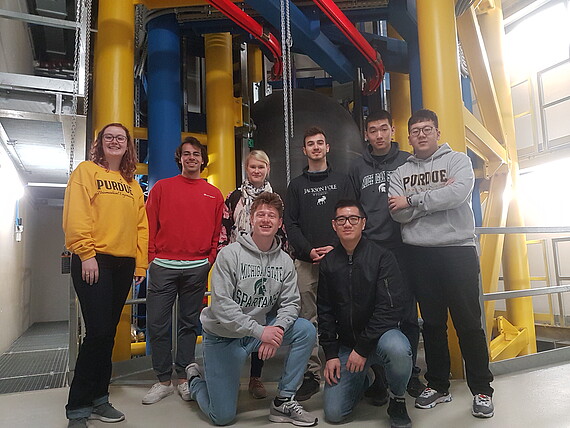 I've loved it here, it's been so fun! I've met so many different people and experienced so many new things that I never would have got to experience in the US. I'm definitely going to miss... everything about it really!
Hadley Susie, University of Nebraska Lincoln
Experience German Science and Engineering and be part of a professional research team at Leibniz University Hannover, one of the 9 top technical universities (TU 9) in Germany!
Time & schedule: May 21 - July 30, 2024
Language: Fully conducted in English
Costs: 2,900 € per student
Credits: 10 ECTS (equivalent 5 US/Canadian credit hours)
Participants: Science and engineering students, at least junior year.
Application Deadline: February 01, 2024
The time out here was really nice, because the professors and students always answered my questions. They provided time for me. Hannover is a really nice place to study and get knowledge.
Harunari Soeda, Tokyo Institute of Technology
More Information
FAQ's

Is my home university a partner university of the LUH?

Our North American and Australian partner universities are:

Concordia College
King's University College
Michigan Technological University (Michigan Tech)
Pennsylvania State University
Purdue University
University of Calgary

University

of Nebraska Lincoln and Omaha
University of New Brunswick
University of North Carolina - Wilmington
University of Wollongong Australia

What is included in the program fees?

The program fee of 2.900 € covers single room accommodation; health and liability insurance; train, bus and subway transportation in the state of Niedersachsen; state semester fee; company site visits; social and cultural activities. A meal plan is not included, cost of food purchases are estimated around 200 € per month.

How do I find a suitable institute or research area?

All institutes list their current research fields on their respective websites. Please follow the provided links. For example, if you''re a mechanical engineering student interested in combustion engines, click on ''School of Mechanical Engineering'', then follow the link for ''Institute For Technical Combustion'' and check out their research fields.

We have some listed research groups on our website, but there are many more so if you have an specific interest, let us know and we will reach out to that institute.

Some of the institutes'' pages are in German only. How do I deal with that?

If you find a German only website, you can download an add-on that translates automatically (f.e. google translator). Furthermore, you can also copy & paste all German text into google translator without installing any add-ons (search for "google translate" in google bar). For further assistance please contact us!

How does matching work?

After handing in your complete application form it will be forwarded to your chosen institutes, beginning with No. 1 on your list. If No. 1 declines, No. 2 will receive your papers...we will contact you immediately after your application is accepted and program fees are due.

Which academic requirements do I have to meet to get accepted for my desired research field?

We accept applications only from students who are in their fifth semester or above (junior year). However, professors will expect a certain level of knowledge in their respective fields. You will need at least one course that fits the institutes'' research scope. For example, institutes researching the field of automatic control engineering will require you to have a minimum of passed one automatic control course at your home university. In this program, the professors who provide placements will be in charge of the final selection of candidates. If your completed classes meet the broader scope of the institute's requirements, everything should be fine.

What is MoveOn and how do I register?

MoveOn is a LUH data base containing all incoming/outgoing student movements for statistical & informative reasons. The only information we need is your full name, birthday, address, e-mail address, and home university. An online registration is sufficient. Please use the following link: MoveOn Incomings registration

What should a letter of motivation contain and how long should it be?

A letter of motivation is always addressed to those that decide on your acceptance. First, answer the following questions in your own words (1/2-1 pages): Why do you want to participate in this program? Why do you want to go to Germany? What do you hope to achieve by participating in the program? Secondly, you should write about your motivation for the specific research field at your chosen institute that you are interested in (1/4 pages per choice).

What are letters of reference and how do I get them?

A letter of reference is written by your educational supervisor, usually from your university (professors) or from companies you have worked at (superior authorities). It contains information about your working habits (hard & soft skills) like

relationship to other students/employees
learning abilities
problem-solving
self-reliance and independence
sense of responsibility

Please provide at least one letter of recommendation from a professor at your university.

Will I get credit hours for this program?

You will receive 10 ECTS points (European Credit Transfer System) for participation in this program, which converts to 5 US credit hours (e.g. Purdue University). Admission of US credit hours will be approved for a similar course at your home university by your home university''s study advisor.

How do grades convert from the German grading system to my universities'' standard grading system?

| | | | | | | | | | | | |
| --- | --- | --- | --- | --- | --- | --- | --- | --- | --- | --- | --- |
| LUH | 1,0 | 1,3 | 1,7 | 2,0 | 2,3 | 2,7 | 3,0 | 3,3 | 3,7 | 4,0 | 5,0 |
| USA | A+ | A | A- | B+ | B | B- | C+ | C | C- | D | F |
| USA (GPA) | 4 | (3,5) | | 3 | (2,5) | | 2 | (1,5) | | | |

What is the housing like?

You will be accommodated in single bed rooms (singles). You can have a closer look at a standard dorm room at the Studentenwerk Hannover by visiting their website: Studentenwerk Hannover: Details (studentenwerk-hannover.de)

I have food allergies. How can I know what I can eat?

All ingredients, including potential allergens, are mandatorily provided on the label at the cafeterias.

You can also download an app which can filter out all dishes that contain specific allergens in our student caferterias. Supermarkets have to list all allergic contents on the packing as well.

Information für teilnehmende Institute

In diesem Programm arbeiten amerikanische Studenten von Partneruniversitäten -oder Institutskontakten in Nordamerika- von Mitte Mai bis Ende Juli (11 Wochen) an einem von Ihnen vorgegebenen Projekt. Die Studenten werden von uns während der gesamten Programmdauer betreut (Unterkunft und alles Organisatorische).

Die Bewerbungsfrist ist am 1. Februar des jeweiligen Jahres. Die Bewerbungen reichen wir an Sie weiter, damit Sie eine Auswahl treffen können.

Im Rahmen des Programms können vom Hochschulbüro für Internationales leider keine Kosten für Laborequipment übernommen werden. Jeder Studierende wird zusätzlich zur gesetzlichen Krankenversicherung haftpflicht- und unfallversichert sein.

Für eventuelle Rückfragen steht Ihnen Stephen Sechrist gerne zur Verfügung.
Impressions from Hannover
Program coordinator north america and oceania, ISEP coordination
Stephen James Sechrist
Coordinator

Address
Welfengarten 1A
30167 Hannover