Study Buddy Programme
Information for local students (2nd or higher semester)
Discover new perspectives and meet students from all over the world
The Study Buddy Programme promotes intercultural exchange between international and local students. It is supposed to make it easier for international students to enter student life with your help.
To this end, the International Office would like to provide every international student with an experienced student before they start their studies at LUH.
Are you interested in international exchange?
Would you like to acquire intercultural competence and improve your language skills?
You would like to support a small group of two or three international students on their arrival in Hanover?
Then get involved as a "local" Buddy!
Aims and objectives of the programme:
enabling intercultural exchange
make it easier for students to arrive in Hanover and at LUH
undertaking joint activities
be a contact person for your buddy and help with questions
Information events
In order to prepare you as well as possible for your activity as a local buddy, an information event will take place in advance in room 009 at the international office and will last approx. 2h. The attendance at one information event is obligatory for the participation in the program. Only then; you will receive the contact details of the international students you will be supervising. You can choose between the following dates:
Tuesday 31.01.2023 4pm
Thursday 02.02.2023 3pm
Thursday 23.02.2023 3pm
Wednesday 22.03.2023 10am
Procedure
Procedure of the programme
Registration using the form on this website
Attend one information event
Allocation of the buddy groups
Contact via e-mail by the local Buddies
By arrangement: Pick up your buddies from the station, escort them their apartment
First meetings of the buddy group
Undertaking joint activities
End of January: Fill in the evaluation
If necessary request a certificate of participation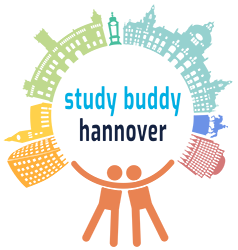 Please contact the Study Buddy Team, if you have any questions regarding the programme
Julia Harmeling
Administrative/Technical Staff

Address
Welfengarten 1A
30167 Hannover