Study Buddy Programme
Meet local students and get to know Hanover
Aims and Objectives of the Programme
The Study Buddy Programme aims to foster intercultural exchange between international and local students. Furthermore, the programme supports international students at the beginning of their studies and provides them with a contact person to discuss everyday challenges in Germany.
As participation in the programme is voluntary, the form and frequency of the meetings depends on the individual commitment of the Buddies.
The programme offers numerous opportunities for recreational activities and support in case of questions or problems.
You would like to...
meet local students in Hanover as quick as possible?
be picked up from the airport / train station in Hanover upon your arrival?
get to know German culture?
improve your German?
have your questions answered by an "insider"?
Become a Buddy!
Information event
In order to prepare you as well as possible for your activity as an international buddy and to inform you about what to expect from your local buddy, an online information event will take place in advance. Participation is obligatory, only then you will receive the contact details of the local students who will be supervising you. You can choose between the following dates:
09.03.2023 2pm (GMT+2)
15.03.2023 11am (GMT+2)
Registration for the Study Buddy Program
Registration for the Study Buddy Program for the summer semester 2023 is possible between 09.01.2023 and 11.04.2023.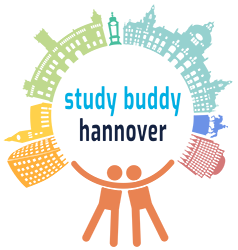 Please contact the Study Buddy Team, if you have any questions regarding the programme
Julia Harmeling
Administrative/Technical Staff

Address
Welfengarten 1A
30167 Hannover