Leibniz Universität Hannover, the German Academic Exchange Service (DAAD), and the German Rectors' Conference (HRK) are jointly organising the DIES Training Course "MANAGEMENT OF INTERNATIONALISATION" in cooperation with the partner universities Universidad Católica San Pablo – UCSP (Arequipa, Peru), Manipal Academy of Higher Education – MAHE (Manipal, India), and Jomo Kenyatta University of Agriculture and Technology – JKUAT (Nairobi, Kenya).
Since 2001, the Training Course is part of the programme Dialogue on Innovative Higher Education Strategies (DIES), which has been jointly coordinated by the DAAD and the HRK (German Rectors' Conference) with financial support from the German Federal Ministry for Economic Cooperation (BMZ). DIES offers a bundle of measures – training courses, dialogue events, projects and partnerships - that foster professionalisation of institutional management processes, alignment of education to international quality standards and strengthening of research capacities.
The key objective of the three-part training course is to qualify university staff (either International Office staff or higher education managers responsible for coordinating international activities) from universities in Africa, Latin America, and Asia, to manage processes and tasks of internationalisation in the area of higher education. The programme will enable the participants to build up improved and more effective structures of internationalisation at their home universities.
The main topics of the course are internationalisation, strategic management, management of partnerships, mobility at home and abroad, as well as counselling and marketing. The programme neither aims at universities with an already very developed stage of internationalisation, nor has as a main purpose to provide knowledge for proposal writing for third party funding.
Important information on the Call for Applications 2022/23
The application period for the DIES Training Course 2023/24 is closed. All applicants will be informed about the results of the selection process at the end of June 2023. Please, refrain to contact the coordination team beforehand.
In case of questions, please send us an e-mail to dies-info@zv.uni-hannover.de
Incomplete applications will not be considered eligible and will be disregarded.
DIES Training Course "Management of Internationalisation" 2025/26
The next Call for Applications will be published in the second half of 2024 (on condition that continued funding is ensured). To be notified once the call is published, feel free to submit to our mailing list (see below).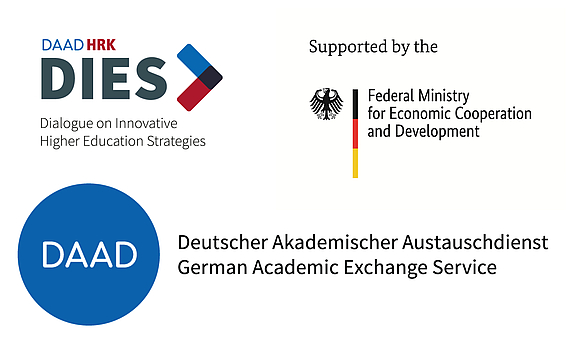 Looking back - 20 years of DIES
Click the link "play video" to activate. Please note that activating the video will result in transfer of data to the respective provider. Further information can be found in our privacy policy
Play video
DIES TEAM AT LEIBNIZ UNIVERSITY HANNOVER
Dr. Birgit Barden-Läufer
Director of the International Office

Dr. Marcus Hoppe
Head of International Cooperation
César Limaylla Bustamante, M. A.
Contact for participants from Latin America
Aimzhan Greiser, M. A.
Contact for participants from Asia and Africa
Dr. Bala Ramani
Regional Coordinator for India/South Asia and Africa