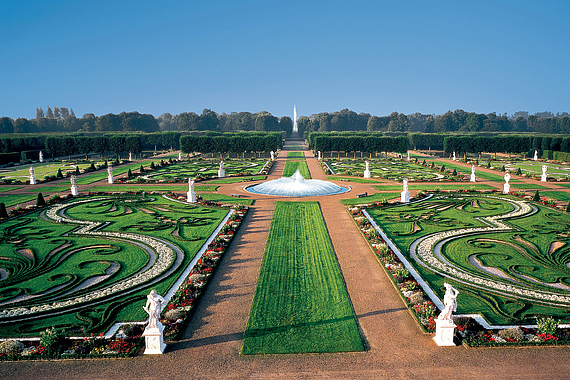 Half of the City of Hannover consists of gardens, woods and water. These offer not only attractive goals for recreation at the weekend but unsuspected qualities each day. Students sit in the Great Garden and study for their next exam, working people spend their midday break in the Eilenriede, mothers jog while pushing prams beside the Maschsee Lake, and amateur botanists can find fantastic blossoms in the Berggarten.
The Herrenhausen Gardens are without doubt the most interesting goal in Hannover. Guelphs and British kings used to stroll between the white marble statues, Baroque flower beds and numerous theme gardens.
Today they are the location for exclusive concerts, the Little Festival and the International Firework Competition. Visitors can still wonder at the gardens which are just as Queen Sophia wanted them to be about 300 years ago.
The Great Fountain, which is 80 metres high, is the largest of its kind in the whole of Europe. And there are always new attractions. In 2003, for example, the last work of the French artist Niki de St. Phalle was completed. The Grotto enchants its visitors with its colourful design and great love of detail.

If you are more interested in animals, Hannover has a large zoo with numerous "worlds of experience". Since the 1990s the zoo has been completely redesigned and pursues the approach of presenting the animals as far as possible in their natural surroundings. A boat trip on the Zambezi takes visitors past hippos, in the Jungle Palace they can see the elephants or, after the zoo's next extension, they can travel on an Arctic steamer to penguins and polar bears.