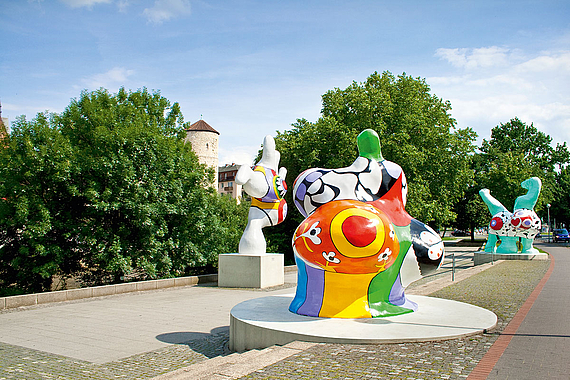 Culture enthusiasts get their money's worth in Hannover. Numerous opportunities for development are offered here, especially for lovers of modern art. First of all, the Sprengel Museum on the Maschsee Lake must be mentioned. Paintings, sculptures and photographs play a central part in the exhibition programme. A "room of experience" of the Dada artist Kurt Schwitters, who was born in Hannover, is also on permanent view there.
As early as in 1973 Niki de Saint Phalle made a contribution to the city's understanding of modern Art when the three Nanas, which were still very controversial at that time, were placed beside the river "Am Hohen Ufer". Despite her international career, she had a special love of Hannover and bequeathed almost 400 works to the city, which made her an honorary citizen in 2002.
In the rooms of the former city swimming baths the Kestner Society offers an exciting dialogue of historical building stock and modern variety of form with up-to-date use.
Numerous exhibitions changing throughout the year provide an exciting spectrum ranging from video and photo artists from all over the world to modern painters from the city and the region.

However, in addition to the museums, literature is of particular importance in Hannover. The doyen Wilhelm Busch has a firm place in the museum named after him. This is situated in the middle of the Georgengarten. Modern projects, such as the Literary Salon in the foyer of the Conti Building, offer young writers the opportunity to introduce their first projects. Well-known authors and other artists, too, can reveal new aspects of themselves in a relaxed atmosphere here.

The Opera House in Hannover is convincing not only architecturally, since it is the main work of the classical architect Laves, but also because of its outstanding productions of operas and operettas. With Jörg Mannes a choreographer has come to the stage and is providing new creative impulses for the ballet.